2023 Presidency: Rufai Oseni Faults Peter Obi's Campaign Manifesto
ALI Umar, December 7, 2022
0
2 min

read
150
Amid ongoing public reactions trailing the just-released campaign manifesto of the Labour Party's presidential standard bearer, Peter Obi, renowned political analyst, and ace broadcaster, Rufai Oseni has come out to share his thoughts on the contents of the long-awaited 62-page document.
Speaking during a session of VOICE Of the People FM 'Newspaper Review' some hours ago, Rufai expressed his dissatisfaction at the lack of details on how Obi and his party intend to implement the 7-point agenda highlighted in the manifesto.
According to the renowned political analyst, though Obi's ideas were quite lofty, he, however, failed to explain how he was going to execute them if elected into power in 2023.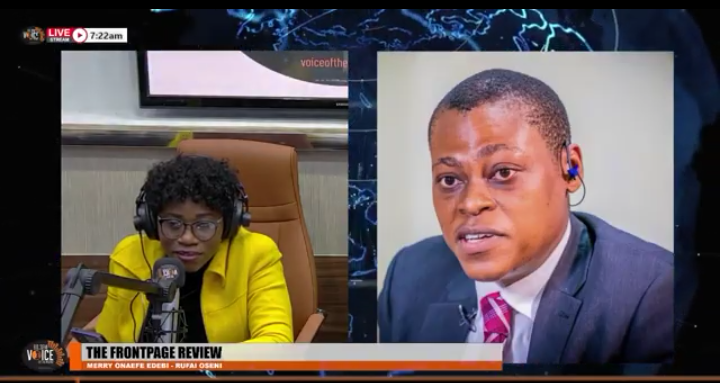 He said; "I have been able to read the document, and I think I have to sound this; I don't know what to call it but I think it is a general Nigerian problem, I think manifestos are just filled with statements of intent but not how. I was having a conversation with my sister this morning and I had to show her a debate in America between Romney and Barrack Obama. I specifically showed her this because I wanted to show her how people drill into details. Romney in the 2012 debate had stated that he was going to cut back on the budget but he would keep at a threshold of $5 trillion. And Barrack Obama challenged him that his math does not add up. So you can see how candidates tell you precisely how they are going to do what they plan to do.
But here, we don't see it, and I don't see it in the Peter Obi manifesto yesterday when I read it. There were a lot of lofty ideas, but how are you going to do it? How are you going to unite Nigeria? Are you going to start a national unity team that addresses XYZ? Are you going to revamp the NYSC as that unity point again?"
You can watch Rufai Oseni's remarks on VOP FM below:
NOTE: Please forward the video to 18:11 (Eighteen minutes, eleven seconds).
SOURCE: YouTube.
Related
Related posts
WHO THE CHAIR FITS? POSSIBLE PRESIDENTIAL CANDIDATES
Live
Ended
GOV. BOLA TINUBU (Declared)

SEN. ANYIM PIUS ANYIM (Declared)

V.P ATIKU ABUBAKAR (Undeclared)

V.P YEMI OSIBANJO (Undeclared)

SEN. KEN NNAMANI (Undeclared)

SEN. BUKOLA SARAKI (Undeclared)

GOV. NYESOM WIKE (Undeclared)

GOV. AMINU TAMBUWAL (Undeclared)

GOV. BALA MOHAMMED (Undeclared)

GOV. CHIBUIKE AMAECHI (Undeclared)

GOV BABATUNDE FASHOLA (Undeclared)

GOV YAHAYA BELLO (Declared)

GOV. ABDULLAHI GANDUJE (Undeclared)

GOV. KAYODE FAYEMI (Undeclared)

SEN. ROCHAS OKOROCHA (Declared)

SEN. ORJI UZOR KALU (Undeclared)

GOV. BABAGANA ZULUM (Undeclared)

GOV. DAVE UMAHI (Declared)

GOV. PETER OBI (Undeclared)

KINGSELY MOGHALU (Declared)

ALHAJI AHMADU ADAMU MU'AZU (Undeclared)

GBENGA OLAWEPO HASHIM (Undeclared)

SENATOR AHMED YERIMA (Undeclared)

DR JOHN KENNEDY OSUALA (Undeclared)

DELE MOMODU (Declared)

GODWIN EMEFIELE (Undeclared)

EMEKA NWAJIUBA (Undeclared)

MAZI SAM OHUABUNWA (Undeclared)

ROBINSON AKPUA (Declared)

Dr. OGBONNAYA ONU

Gov. GODSWILL AKPABIO

Mrs. PATIENCE KEY

KHADIJAH OKUNNU-LAMIDI

WOLE ADEBAYO (Declared)