US president Joe Biden was one of the few Heads of State that were allowed to use their personal transport in London during the burial of Queen Elizabeth II.
The UK government had asked all visiting presidents to use a common means of transport to avoid road traffic jams and crowding at the London airport.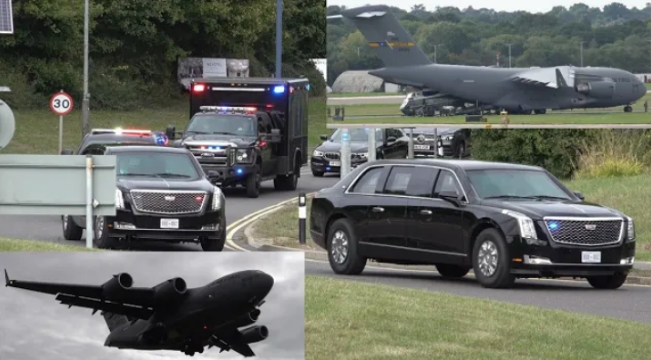 There was however an exception for president Joe Biden because his cars arrived in London earlier including a private helicopter.
There were two beasts which are the official transport vehicles for the US president and other escort cars that are mandatory when the president is traveling.
After the funeral Bidden flew back to the US and his security cars were also carried back.
All of them were transported in the C-17A aircraft, which is one of the biggest aircrafts owned by the US military.
Even the helicopter that Biden used to travel in London was carried in the big plane.
Watch the cars being loaded into the aircraft in the video shared below:
Related
Related posts
WHO THE CHAIR FITS? POSSIBLE PRESIDENTIAL CANDIDATES
Live
Ended
GOV. BOLA TINUBU (Declared)

SEN. ANYIM PIUS ANYIM (Declared)

V.P ATIKU ABUBAKAR (Undeclared)

V.P YEMI OSIBANJO (Undeclared)

SEN. KEN NNAMANI (Undeclared)

SEN. BUKOLA SARAKI (Undeclared)

GOV. NYESOM WIKE (Undeclared)

GOV. AMINU TAMBUWAL (Undeclared)

GOV. BALA MOHAMMED (Undeclared)

GOV. CHIBUIKE AMAECHI (Undeclared)

GOV BABATUNDE FASHOLA (Undeclared)

GOV YAHAYA BELLO (Declared)

GOV. ABDULLAHI GANDUJE (Undeclared)

GOV. KAYODE FAYEMI (Undeclared)

SEN. ROCHAS OKOROCHA (Declared)

SEN. ORJI UZOR KALU (Undeclared)

GOV. BABAGANA ZULUM (Undeclared)

GOV. DAVE UMAHI (Declared)

GOV. PETER OBI (Undeclared)

KINGSELY MOGHALU (Declared)

ALHAJI AHMADU ADAMU MU'AZU (Undeclared)

GBENGA OLAWEPO HASHIM (Undeclared)

SENATOR AHMED YERIMA (Undeclared)

DR JOHN KENNEDY OSUALA (Undeclared)

DELE MOMODU (Declared)

GODWIN EMEFIELE (Undeclared)

EMEKA NWAJIUBA (Undeclared)

MAZI SAM OHUABUNWA (Undeclared)

ROBINSON AKPUA (Declared)

Dr. OGBONNAYA ONU

Gov. GODSWILL AKPABIO

Mrs. PATIENCE KEY

KHADIJAH OKUNNU-LAMIDI

WOLE ADEBAYO (Declared)